Because we love them! Our pets do more than keep us company. They are a listening ear when we need to talk, a motivator for us to take a walk, a cuddling companion when we're tired or sad and a buddy to make us laugh at just the right time – all this and more. Celebrate your special friend with a unique fun pet portrait! We offer styles that range from the whimsy of pop-art to the look of an oil painting, pastel, watercolor or "portrait studio". We can even add fun thought bubbles!
Your finished piece can be printed on art paper or canvas. We provide some standard framing options for simplicity and convenience. However, if you want something more custom we're delighted to provide that something special to set it off to its maximum effect.
It's simple to get started. All we need is a photo of your precious and some information about how you want it to look. The examples provided will give you some great ideas.
We have package pricing for the framed Pop Art portraits based on the size. Framed pieces come with an archival quality white matte with approximately 4″ of matting around the image, and a flat black frame for a contemporary look.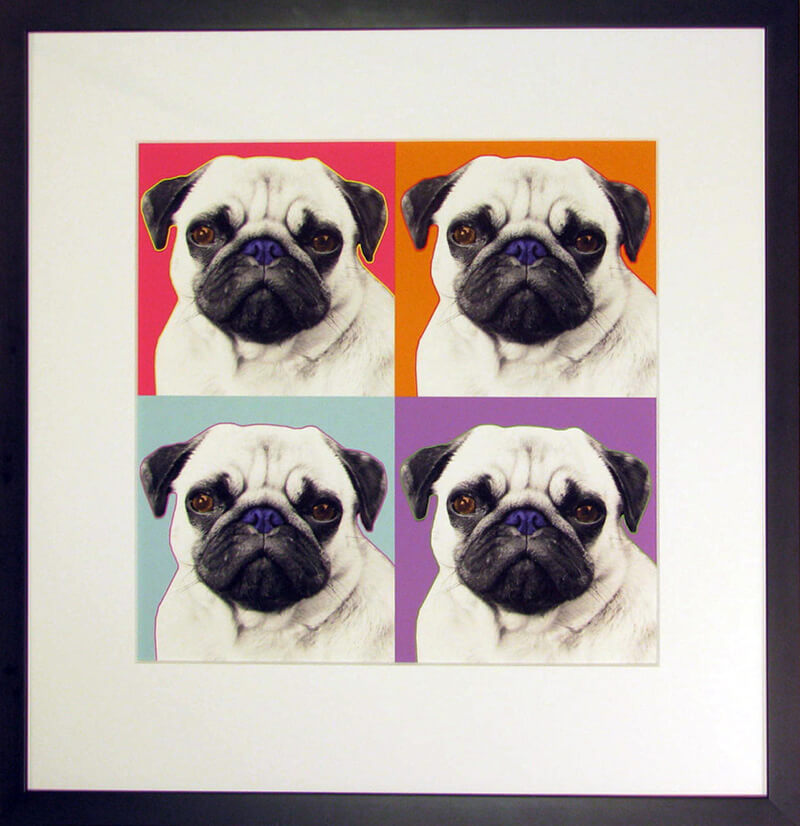 Prices are:
12 x 12″ (6″ cells) $350.00 Finished Frame size 22″x22″
18 x 18″ (9″ cells) $400.00 Finished Frame size 28″ x 28″
24 x 24″ (12″ cells) $600.00 Finished Frame size 34″ x 34″
We can ship anywhere! (shipping charges would be additional)
Please call us if you have any questions.
Houston's Custom Framing and Fine Art
280 East Hersey St., Suite #11, Ashland, OR
541.482.1983 toll free 877.566.5542